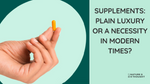 Money can't buy happiness, and food alone can't give you all nutrients!
There are some things money just can't buy. And there are some nutrients you just can't get with your everyday diet. The Google dictionary defines nutrients as "substances that provide nourishment essential for the maintenance of life for growth." Nutrition is, hence, a necessity. To be physically and mentally strong and to thrive as a human being in general, nutrition probably plays the most critical role of all.
Despite playing such an essential role in our growth, we often take nutrition for granted. Probably because we have easy access to it and because we are constantly bombarded with delicious junk food that our bodies hate but our brains love.
Here are a few stats from the past 10 years that will help you evaluate the relationship between us Indians and junk food:
India ranks 10th in the fast-food per capita spending figures with 2.1% of expenditure in total annual spending.
India's fast-food industry is expanding at the rate of 40% every year.
93% of Indian children consume packaged food more than once a week.
India ranks number 2 among countries with the most deaths caused by unhealthy food choices.
One in every four Indians is overweight. India is the third most obese country in the world, just behind the US and China. 
Our changing dietary habits
As a result of several factors, our lives are changing and so are our diets. Our daily diets lack the nutrients we need in order to thrive. There are some nutrients that you just can't get in your regular pantry. This is where dietary supplements come in.
"Dietary supplement" – as the words suggest, is meant to supplement your diet. It is something you consume in addition to your food in order to complete or enhance the nutritional value you derive from your diet.
Supplements might come in a variety of formats such as capsules, tablets, chocolates, gummies, etc. Companies explore with different formats to cater to all tastes and preferences. Some people find capsules more convenient, while some don't mind the extra sugar that comes with gummies or truffles. Supplements come in all shapes, sizes, and formats.
Reasons to consume supplements
Reasons why supplements have become a necessity:
Completing your nutritional requirements: As mentioned above, most of us are unable to consume the required nutrition just from food. Supplements can help you fill this gap.
Absorption & Availability: Nutritional compounds found in plants are called phytonutrients. They are found in fruits, vegetables, whole grains, etc. Phytonutrients have many antioxidant and anti-inflammatory properties. But not all are easily absorbed in the correct amount for the intended effect or are part of our staple pantry. This is where supplements come in – they can make phytonutrients palatable.
Convenience: Supplements are an easier way to stay healthy. Instead of consuming 9g of turmeric root powder everyday (3 full tablespoons) – which is the amount of kitchen turmeric you would require to fully derive benefits from it, you could just consume a small dose of Golden Hug every day.
Changes in our body: As we age, our bodies' ability to absorb nutrients reduces. This is called Malabsorption, and it is generally found in the elderly. The condition further leads to malnutrition. Supplements can help your body with extra nutrients that it is unable to absorb as it ages.
Heavy metals & lead content: The ingredients in our kitchen might not be tested for heavy metals and lead content. While that is a larger problem to solve, we at Nature & Thought ensure that our supplements are tested for lead content and heavy metals, which makes it safe for consumption.
Conclusion
Half a century ago, our food was much more organic, the milk we consumed was free from most chemicals, and the air we breathed was not as polluted. A combination of many factors has led us to this day, where we are required to go the extra mile in order to stay at the top of our health game. Supplementation, when paired with a clean diet, good physical exercise regime and well-managed stress levels, can go a long way in positively changing the way you live life!
We at Nature & Thought leverage our 35+ years of healthcare expertise to formulate clinically validated, safe-to-consume supplements. We have created products that are 1-A-Day, i.e., they are required to be consumed only once, daily, unlike most supplements available in the market. This is because of increased bioavailability or our extended release technology, something we try to focus on while formulating supplements.
We recommend the following products, if you are just starting out with supplementation:
Golden Hug – Our special formulation of Turmeric that helps with joint and muscle health
Zen Panda – Ashwagandha for all-day stress management
References:
Joseph N, Nelliyanil M, Rai S, Y P RB, Kotian SM, Ghosh T, Singh M. Fast Food Consumption Pattern and Its Association with Overweight Among High School Boys in Mangalore City of Southern India. J Clin Diagn Res. 2015 May;9(5):LC13-7. doi: 10.7860/JCDR/2015/13103.5969. Epub 2015 May 1. PMID: 26155501; PMCID: PMC4484093.
Holt PR. Intestinal malabsorption in the elderly. Dig Dis. 2007;25(2):144-50. doi: 10.1159/000099479. PMID: 17468550.
---
← Older Post Newer Post →