Aren't you tired of sifting through countless supplement options, wondering which ones will actually make a difference to your overall health? With so many choices out there, it can be overwhelming to know where to start. But don't fear, because we're here! At Nature & Thought, we believe that the key to effective supplements lies in the quality and potency of their active ingredients and bioactives. So, here's a blog that'll help you dive deep into the science behind these crucial components and learn how they can revolutionize your approach to health and wellness.   Why are Active Ingredients...
---
Antioxidants have gained a lot of attention and interest in recent times. It is considered the way to go to improve immunity. It's interesting how antioxidants can improve immunity. To understand the antioxidants' mechanism in our body, it's important to understand first, what free radicals are and how do they affect our body and immunity? Free radicals are highly unstable molecules that are naturally formed when you exercise and when your body converts food into energy. Your body can also be exposed to free radicals from a variety of environmental sources, such as cigarette smoke, air pollution, and sunlight. Free...
---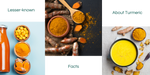 Turmeric has been part of our food culture and home remedies for centuries. Since ancient ages, turmeric has been our go-to for curing cough, cold, inflammation and injuries. Turmeric has been extensively researched for its benefits in respiratory health, joint health, and immune health by the global scientific community.  There are over 8000+ plus scientific publications to support its numerous health benefits.  But what makes turmeric such a super nutraceutical supplement? Curcuminoids are bio-actives present in turmeric which are responsible for its therapeutic action.  Regular Turmeric Powder has only approximately 3% curcuminoids. So large quantities of turmeric need to be consumed...