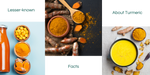 Turmeric has been part of our food culture and home remedies for centuries. Since ancient ages, turmeric has been our go-to for curing cough, cold, inflammation and injuries. Turmeric has been extensively researched for its benefits in respiratory health, joint health, and immune health by the global scientific community. 

There are over 8000+ plus scientific publications to support its numerous health benefits. 


But what makes turmeric such a super nutraceutical supplement?
Curcuminoids are bio-actives present in turmeric which are responsible for its therapeutic action. 


Regular Turmeric Powder has only approximately 3% curcuminoids. So large quantities of turmeric need to be consumed daily for gaining its benefit.


Turmeric extracts are available in the market with varied concentrations of Curcuminoids. For example, a 95% Turmeric Extract will have 95% concentration of curcuminoids.


But even with increased concentration of curcuminoids in turmeric extract, its absorption in the body is still a concern and therefore requires multiple doses (3 capsules a day or 1500mg of curcuminoids).


To increase the absorption, a.k.a. bioavailability of turmeric, most manufacturers add synthetic inactive ingredients jeopardising the safety of a natural product for long term use. 
Golden Hug uses TurmXTRA 60N Turmeric extract, which is an all-natural turmeric ingredient with natural excipients. Each Golden Hug capsule has 250mg of TurmXTRA60N which has been clinically valided to be equivalent to 3 capsules of 95% Turmeric Extract (1575 mgs). So, 1-a-day dose is all that is required for gaining optimum benefits of turmeric
Read peer-reviewed published literature on TurmXtra 60N
Thanawala S. et al. Comparative bioavailability of curcuminoids from a water-dispersible high curcuminoid turmeric extract against a generic turmeric extract: a randomized, cross-over, comparative, pharmacokinetic study. J Pharm Pharmacol. 2021 Apr 27;73(6):816-823. 
https://doi.org/10.1093/jpp/rgab028
. PMID: 33755149.
TurmXTRA is also clinically tested and validated for maintaining healthy joints. 
---